The EdgeStone team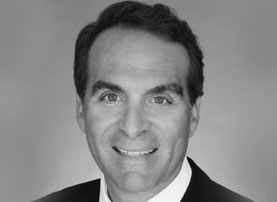 Gilbert S. Palter
Managing Partner and Chief Investment Officer
Gil joined EdgeStone in May 1999 as a co-founder. Prior to joining EdgeStone, he was the Founder, Chief Executive Officer and Managing Director of Eladdan Capital Partners, a Toronto-based private equity fund targeting middle-market Canadian and U.S. companies. He also founded Eladdan Enterprises, a boutique investment bank specializing in providing buy side mergers and acquisitions advice to Canadian and U.S. companies, particularly on cross-border acquisitions and investments. Gil has previously worked at Morgan Stanley, Smith Barney, McKinsey & Company and Clairvest Group Inc.

Gil currently serves as Co-Chairman of the Board of Directors of Aurigen Capital Limited, Chairman of Specialty Commerce Corp. and Stephenson's Holdings Inc., and is also a member of the Board of Directors of Eurospec Manufacturing. He is a former Chairman of Hair Club Group, Continental Alloys & Services, BFI Canada, Mitel Networks Corporation and Farley Windows and was previously a director of Alliance Films, Trimaster Manufacturing and Xantex Technology.

Gil holds an MBA from Harvard Business School where he attended on a Frank Knox Memorial Fellowship and graduated as a Baker Scholar and winner of the John L. Loeb Fellowship in Finance. He was the Gold Medalist in his graduating class at the University of Toronto where he attended on the J.W. Billes Scholarship earning a Bachelor of Science degree in Computer Science and Economics. Gil is involved in a number of philanthropic organizations. He was a 2003 recipient of "Canada's Top 40 Under 40" award, a recipient of the Ernst & Young Entrepreneur Of The Year® Award 2006, and is a member of the World President's Organization (WPO).
EdgeStone
Capital Partners
EdgeStone Capital
One of Canada's
leading independent
private capital
managers